New Home Interior Design Tips: 4 Rules that Should Be Broken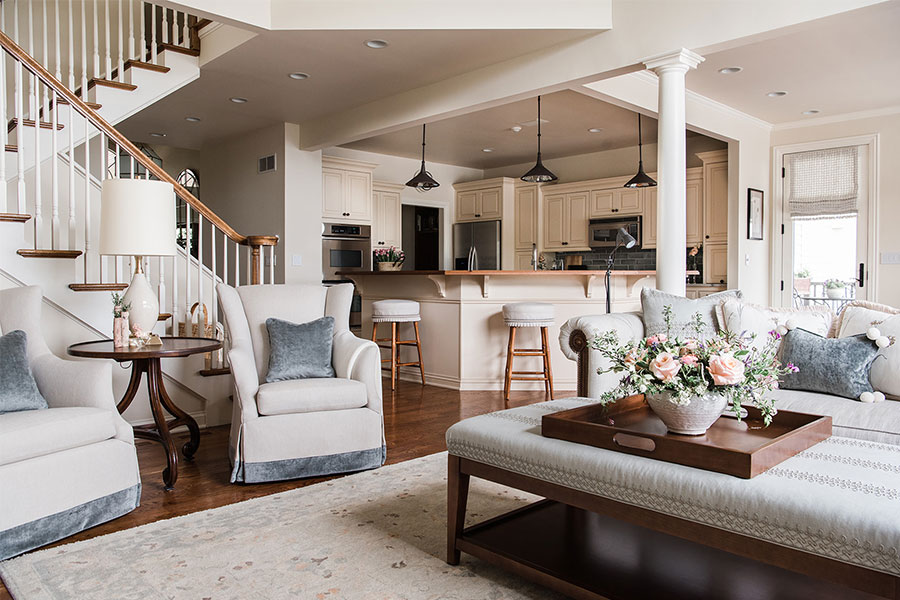 Summer may be coming to a close, but there are plenty of exciting things to look forward to before winter makes its first appearance here in Chicago. If moving into a new home is on that list for you, then you have probably considered new home interior design options in Plainfield, IL.
If years of interior design experience has taught me anything – it's that people shouldn't be afraid to break the "rules" from time to time.
Mix the Old With the New
One of the most ancient rules of new home interior design is that you shouldn't mix the old with the new. Despite the fact that this was once a faux pas, interior designers and their clients are finding great pleasure in marrying different styles and periods together for a one-of-a-kind look.
If you own a few different periods pieces that you aren't willing to part with, pair them with modern fixtures and accessories that bring your space into the 21st century. If you are moving into a new condo in downtown Chicago, hang a vintage chandelier and display an antique mirror to give it a sense of history.
No matter how you happen to do it, don't be afraid to mix a little bit of history in with your current style. The result will allow for a truly one-of-a-kind space that will never go out of style.
Dare to Be Different
Speaking of things going out of style, one of the biggest mistakes you can make when designing your new home is to choose trends over your personal preferences. It's one thing to follow the latest clothing trends, but it's another thing entirely to allow your new home to be designed based on something as fleeting as a temporary trend.
When you set out on your new home interior design journey, pay close attention to the different styles and decor you like, not the styles and trends society says you should like. Your new home will not only look amazing, it will actually feel like your home, not like someone else's.
Get Dark in Small Spaces
It's one of the oldest interior design no-nos, but more people are daring to go dark in even the smallest spaces. Choosing paint colors for a new room can be tricky, but partnering with an interior design professional can help alleviate any decision-making stress.
Rather than limit yourself to painting small spaces in lighter tones, consider how a darker color can add a sense of depth. Grays, browns, and navy blues are all great options for bathrooms, laundry rooms, and other smaller spaces, and can be complemented with well-placed accents that will brighten up the space. Think reflective pieces, or framed pictures that are lighter in color for a dramatic contrast.
Mix and Match
Mixing different metals and wood finishes is a great way to add subtle contrast to a room, without incorporating over-the-top wall colors. Displaying gold and silver frames in the same room, for example, is a great way to add a bit of flair.
Incorporating different wood finishes in the same space has also been a past interior design indiscretion, but one that we welcome in our interior design concepts. White trim with darkened espresso doors creates a dramatic contrast that will add depth and style to a home. If your doors are stained in a dark shade, don't be afraid to incorporate furniture with a lighter finish. These pairings are great ways to showcase your individual style, and make a lasting impression on your guests.
While we are on the subject of mixing and matching, there is something to be said about unlikely pattern and color pairings. Be daring when it comes to plaid and floral fabrics cohabiting the same space, and do the same with colors in the same room. A bold colored couch against a bold colored backdrop can be a great focal point in a room, when done correctly.
Whatever You Do, Enlist a Professional
Be daring in your new home interior design, but be sure to consult a professional, especially when breaking these "rules" of design. Here at Colleen McNally Interiors, we work with each of our clients to help them discover their individual style, and bring it to life in their new home.
Going against these traditional restrictions of interior design can have a major impact on your space, especially when you partner with a professional interior design team to make it happen. Let our team be the guide on your new home interior design journey, and dare to go against the grain.
Contact us today for a consultation, and start planning your new dream home.