How Much Do Custom Window Treatments Cost?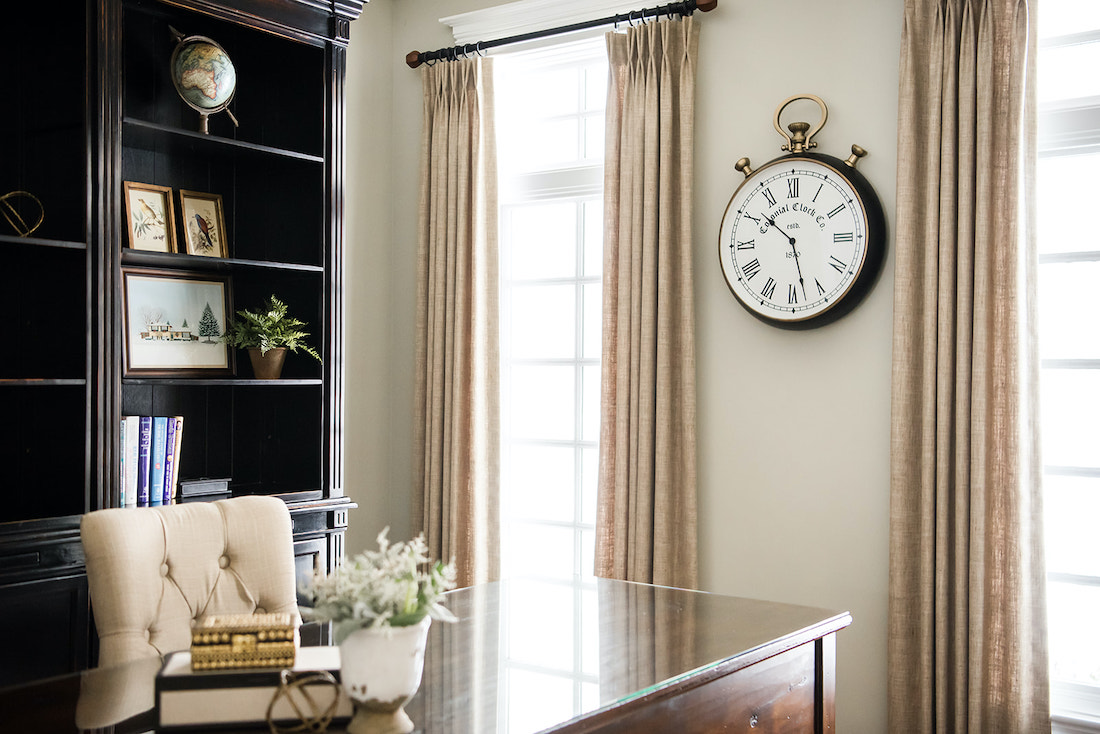 When we create a design plan for a client's home, we always include a plan for window treatments.
The fact of the matter is that planning for custom window treatments from the start can save time and money later on.
Generally speaking, where windows are concerned, the most long-term effective strategy is prioritizing rooms and completing them in bundles. This prevents snafus down the line.
Mistakes, such as the installed hardware not accommodating new treatments or difficulty matching previously purchased fabrics, can be expensive to fix.
However, there are many ways to control cost without sacrificing custom window treatments.
Window Treatment Base Costs
Measuring fees and installation costs mean that it always ends up being less expensive to do window treatments in groups.
If necessary, we can start by installing the lowermost portion of the final look to control light. But we want to make sure we have a plan from the outset about how to build them towards their final design.
Roller and screen shades can be a good way to install something quickly that provides privacy and controls light in a cost-effective way.
We are also able to produce custom pinch-pleat drapery panels that start at $219 per panel. They are fully lined and fabricated in the US.
During that concept phase, we show clients how different price points influence the final look. Being able to touch the fabrics and see the materials allows the client to make an educated decision.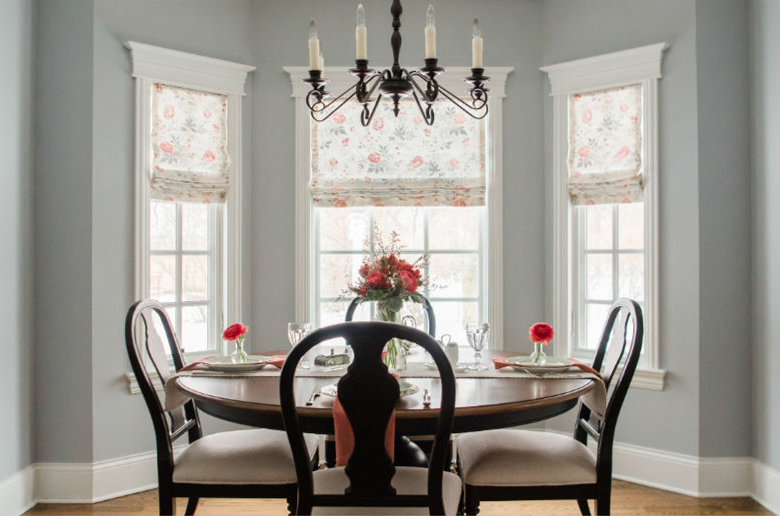 Thinking About Cost: Why Go Custom?
While readymade drapery panels can seem like a good option in-store, they rarely live up to the hype.
Draperies or hardware that aren't specific to your window measurements can end up covering the majority of the window.
This means that the room overall gets less light, the windows look smaller, and ceilings can look lower. Readymade panels rarely hang exactly straight. This loss of quality allows manufacturers to speed up production time.
Once curtains are sewn crooked, no amount of steaming or ironing will make them not hang that way.
We put special effort into maintaining a design library that supports multiple price points. Fabric, trim, hardware, and blinds all contribute to the final cost. We also plan any extra time needed for preparation, delivery, and installation.
Our fabrics are first grade and the yardage is cut for each specific project. This helps us avoid purchasing in bulk.
Layers: Window Treatment Linings
Ideally, window treatments should use room-appropriate linings. Bedrooms require the heaviest linings, up to and including blackout linings.
Meanwhile, living areas don't need to be so dark. Gauzier linings in these gathering spaces help diffuse the light and can feel a touch romantic.
Layers: Top Treatments
Top treatments create a sense of depth between your home and the outside world. Homes with top treatments feel cozier and more put together. They can also be an excellent way to incorporate lower yardages of an expensive fabric.
There are a very wide variety of top treatment styles. For instance, a cornice treatment, using a form to create shape rather than additional fabric, is often less expensive than a valance.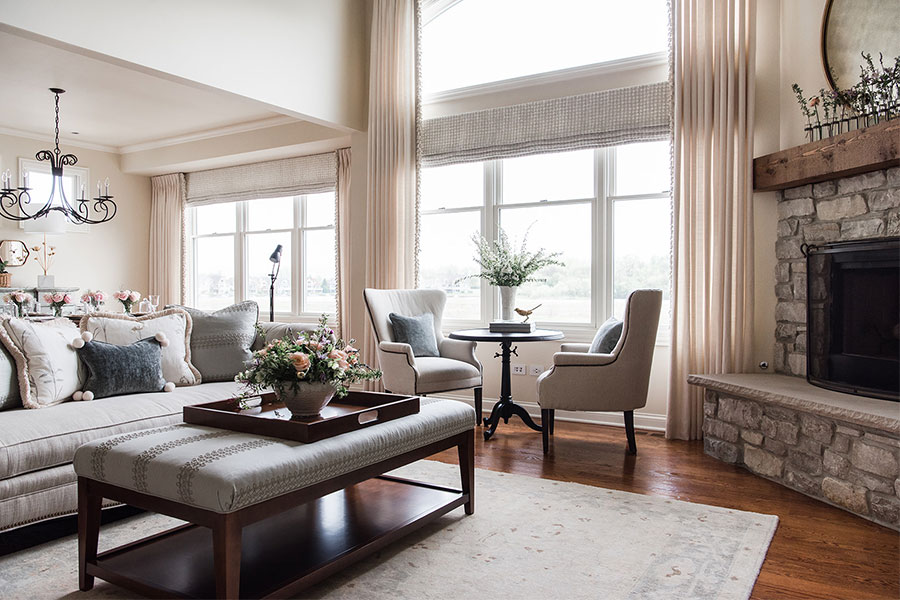 The Cost of Various Fabrics and Styles
Two-story windows require more than double the fabric of a single-story window. They also require more time for fabrication and installation. Two-story windows generally start at around $4,000.
Fabric yardage and labor are the two biggest influencers of price.
Window height plays another big part.
Fabric generally starts at $45 per yard and on average runs $70-$85 and up. Different styles can alter the final price. Drapery panels require more fabric than a roman shade, for example.
The drapery fabric cost can add up quickly depending on the fabric selection. A room with nine-foot ceilings and a six-foot-wide window dressed with a pair of stationary panels, installed on decorative hardware generally starts at $1,200.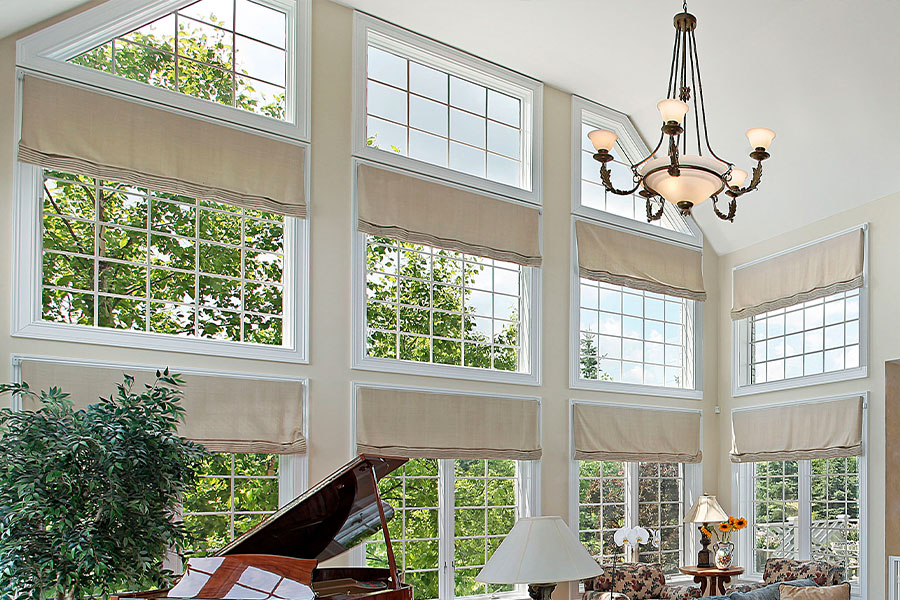 Custom window treatments are a long-term investment.
Clients often have strong design influences they want to follow and window treatments are an excellent place to carry those ideas through.
They usually receive less wear and tear than, say, furniture and are likely to be one of the longest-lived design elements in a given room.
Planning the window treatments from the outset is a good way to save money and maintain the design vision of your home.
Ready to start planning your custom window treatments?
Contact us to get started.