Making New Construction Selections (A Designer's Advice)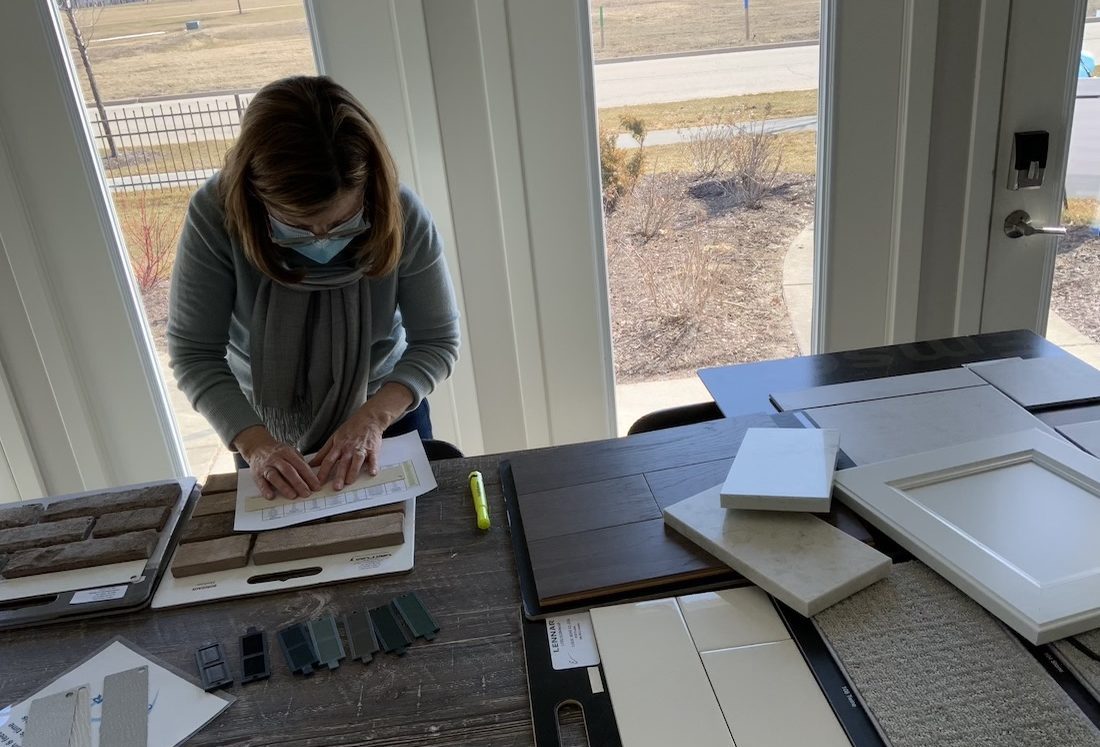 There's nothing quite like the thrill of looking at samples and making selections for a new home.
Unless…you have an hour to do it, the lighting is bad, the tables are tiny, and the builders absolutely will not allow any changes after the fact.
This is exactly the state we were in a few months ago. Our pre-pandemic choices for building a custom home were getting slimmer and slimmer as shortages ate up building supply. Escalated labor and construction costs were also complicating our home build.
Our forever home was put on hold and we're building a "bridge home" until it all balances out.
One silver lining? We have learned—from all sides of the process—the best ways to make selections for new construction projects. Here are the Dos and Don'ts to make custom build selections that feel like home.
Do…
…Be Aware of Lighting
Before you go in, have a general sense of whether you want to stay in a warm or cool range of tones. Then, examine your selections under a variety of conditions.
If the lights in the room are fluorescent, try taking the samples outside. If the room is lit naturally, draw the curtains and pull out a desk light.
See how the samples take on different qualities in different conditions. Especially if you prefer certain rooms to shine in certain lighting conditions, you'll want to know how the final products will shift in the lighting.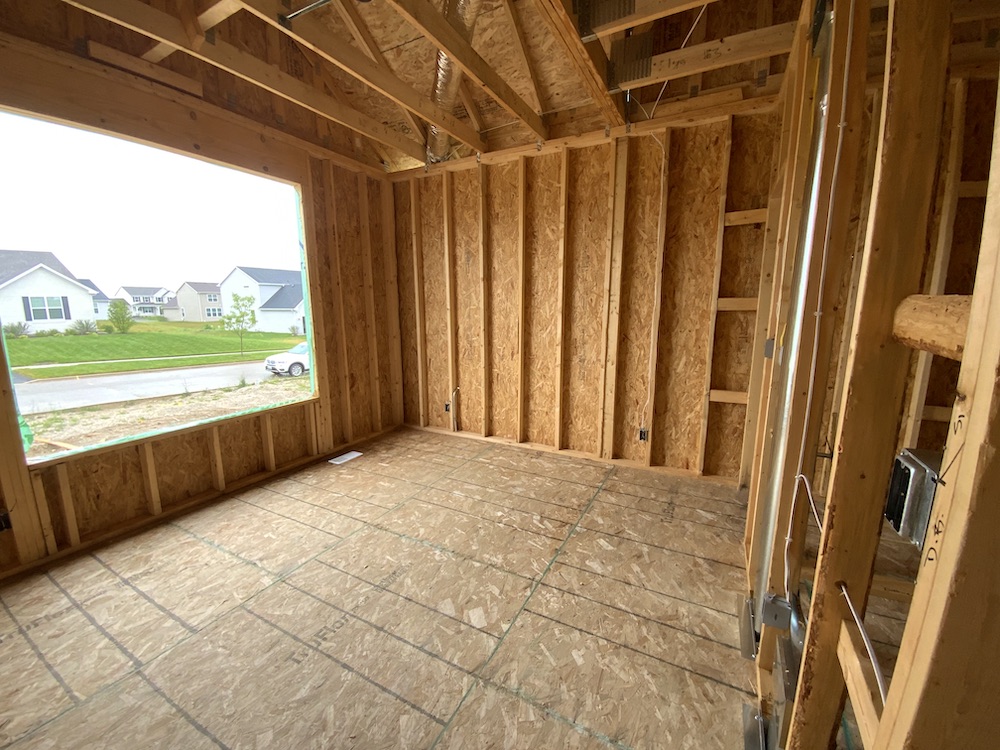 …Ask to See Selections Beforehand
If at all possible, ask the builder if you could see or borrow the samples before making final selections. This gives you a chance to see how they complement existing furnishings and color schemes.
Some builders will allow you to check out samples for brief periods. Ask ahead of time if they require a deposit to check out samples. Don't forget to ask about indoor and exterior samples.
…Spread Out
Sometimes new homeowners can get pushed to the corner of the room while they review. Don't be afraid to ask for more table space or to lay samples on the floor.
Bring any tools that might help you make selections. Group the samples initially by type, then use colored stickers or post-its to determine coordinating individual selections within each group. Or try taking pictures of all the selections you like together.
Come up with a method ahead of time to help you remember everything you have.
Don't…
…Make Expensive Changes
Large-scale national home builders buy in large quantities to help keep costs low. However, this can mean that last-minute changes can cost a pretty penny. And what they count as "last minute" might be much earlier than you're anticipating.
Inquire about when selections need to be final and what costs are associated with changes at each stage.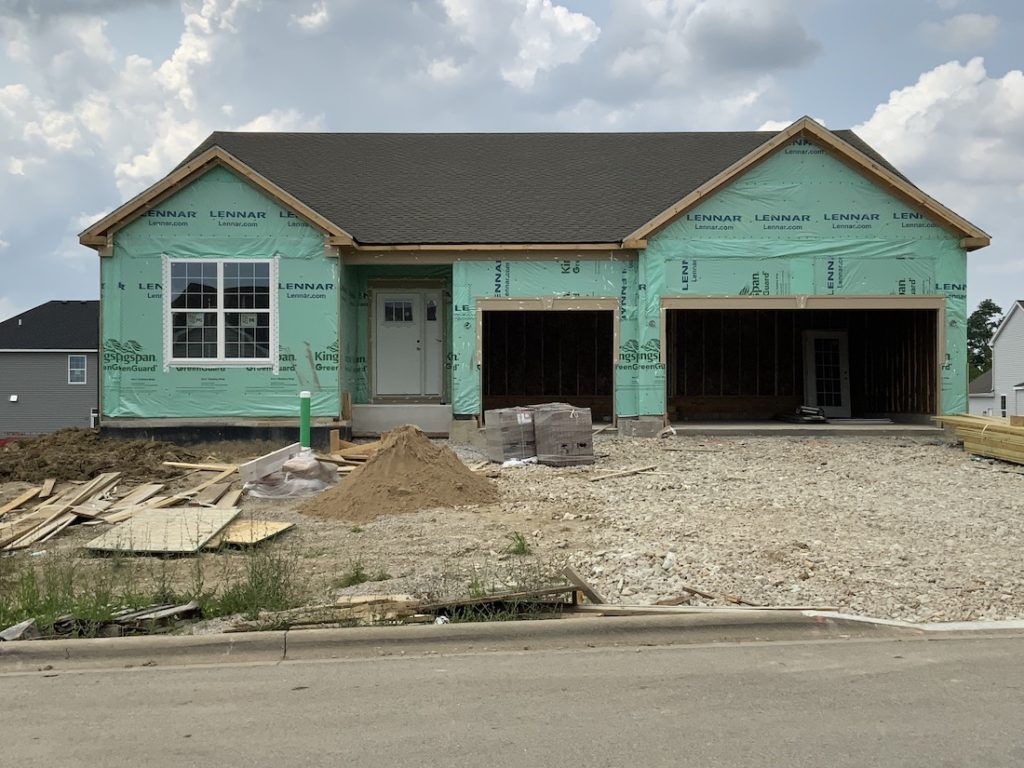 …Be Timid in Advocating for Your Project
When my husband and I made our final selections, we knew exactly what we wanted and still barely managed to fill out our selection sheet. My husband wondered how couples without an interior designer could ever complete the task.
We had only an hour and, by the end, we were exhausted and rushed. The sales rep said, "You did a great job. Usually, tears are involved in the process."
Don't be afraid to ask for as much time as possible or if it's possible to come back. It won't always be available to you, but every minute counts when you're deciding what decor to live in.
Get friendly with your sales rep. Make sure that all the relevant samples have been pulled. A little oversight on their part might result in fewer choices for you!
…Ignore Your Representative
Ask for help understanding what choices need to be made and which, in their experience, take the longest. You don't want to spend all your time choosing cabinet doors and flooring finishes only to realize that you still need to coordinate countertops, carpet, and tile.
Better yet, let us help you! Click here to learn about our Renovation Roadmap service.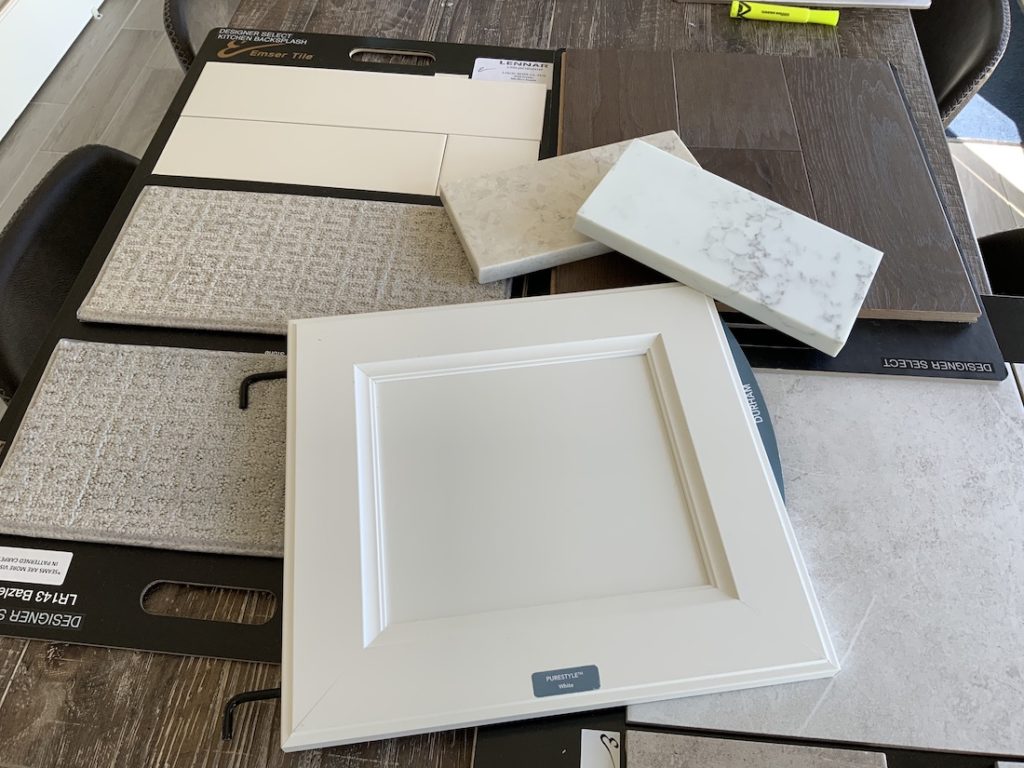 The Bottom Line
If, like us, you're addressing 2021 shortages and delays faced by smaller operations, large-scale national home builders can provide more consistent delivery schedules. Their longer-term contract and build times can help absorb current market fluctuations to deliver on time.
Now that you know the Do and Don'ts, you'll be all ready to crush final selections. Contact us to learn more about how we can help.