How to Choose an Area Rug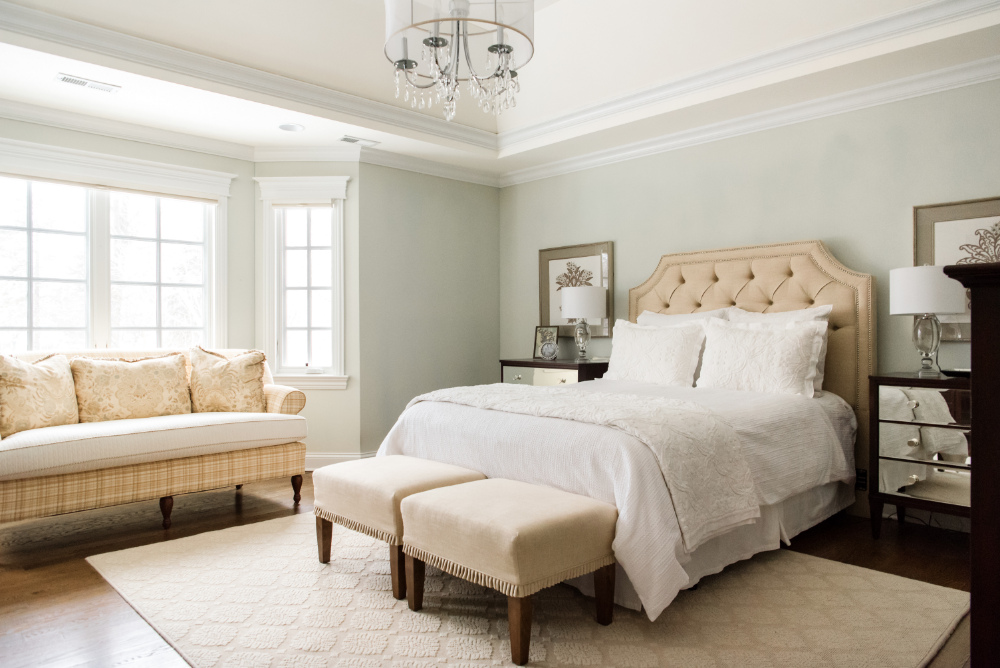 People often ask me about room design, and in particular about how to choose an area rug.
There are so many factors to consider when choosing an area rug—from color to pattern to material to size. Let's discuss some of the most common questions!
Q: "How big should my rug be?"
This is one I am asked a lot. And inevitably the answer is, "It depends."
First, let's keep it simple: In a perfect world I'd prefer to have all the furniture in a room completely on the area rug.
But if space doesn't allow this, a general rule of thumb is to let the furnishings go not much more than a half foot beyond what the rug covers. Maybe eight inches tops. This allows the rug to anchor the space in which people sit.
When choosing an area rug for dining spaces, there should be at least two feet of rug from the table, so that there's space enough for the chair to still sit on the rug when pulled out.
Often with well-varnished wooden floors or certain types of tiling, furnishings can slide around, or potentially even scratch the flooring.
With living rooms, it's dicier. Going back to the six-to-eight-inch rule, it helps having just the front legs of a sofa, loveseat or chair positioned on the rug. With the front legs on the rug, the furniture stays in place when people sit.
Additionally, putting felt pads on the back legs prevents damage to the flooring and help align the front and back legs of furniture.
Q: "Should I choose a standard-sized area rug or custom one?"
Mostly I work with standard sizes, with eight-by-ten or nine-by-twelve feet being the most commonly used rugs for living areas and dining spaces. Sometimes the best option is for furniture to butt up to the rug, which tends to be the best option for smaller spaces.
With custom area rugs, it really depends on whether a client has the budget for one. When looking at how to choose custom area rugs, allow about a foot-and-a-half to two feet around the perimeter for exposed flooring.
Custom rugs allow you to spread the rug to fill the space evenly and fit the architecture of the room.
AREA RUG INSPIRATION
Q: "What are the most common types of materials—and the pros and cons for each?"
In the end, wool is my preferred choice.
"Why?" I hear you ask.
To which I will then launch into a treatise on New Zealand's incredible climate for sheep-raising and its expert shepherds (do they still call them that?), and how New Zealanders shear their sheep's coats only once the hair is long enough to make sturdy, long-lasting fibers.
But anyone knowledgeable about wool—a natural dehumidifier—and area rugs knows that wool rugs rehabilitate stains over time naturally, making it the best material to use when choosing an area rug. 
Can you tell I'm biased?
Q: "What about other natural fibers?"
Consider jute, which is also used to make burlap sacks. It looks natural and has a supple feel, though it's not the most durable of materials.
Then there's sisal, a durable material that originates from a Mexican agave plant. Though the cloth made from it is tough and coarse, stains are difficult to remove from it.
Perhaps one of the best plant-based fibers is hemp, a sustainable and extraordinarily durable material that was used to make rope, sails and clothing for thousands of years. Though coarse, hemp cloth softens over time, with the added benefit that it resists mildew, which makes it ideal for humid climates.
Q: "And how about manmade fibers?"
Synthetic cloth used for area rugs these days tends to have a wider variety of styles, colors and designs than natural cloths, so can more easily match a room's décor.
Consider nylon, for instance, which with proper cleaning every year to year-and-a-half lasts a very long time.
When cleaned, nylon cloth basically resets itself, making the material even more resilient.
Then there's polypropylene fabric, which is also used in upholstery. Used in both indoor and outdoor settings, it's soft and not prone to discoloration due to sunlight. It's great for area rugs that get heavy traffic and is easily cleaned.
Viscose—a type of rayon—has become a common material used for area rugs these days. It holds dyes well, and its silky appearance makes it aesthetically pleasing.
However, it doesn't hold up well in high traffic areas or when cleaned, which is why I tend to avoid using viscose.
Q: "Do I need a rug pad?"
The answer is yes. So many people overlook this very, very important part of having an area rug. The pad protects the floor and helps keep the area rug in place.
If you're working with a newly stained wooden floor, it's best not to cover it up for a period of six months, as it needs time so the finish can cure and breathe.
In fact, if you don't let it breathe, the floor's finish may very well turn a lighter shade.
AREA RUG INSPIRATION
And one final question on choosing area rugs…
Q: "How can rug design serve as an inspiration for a room?"
To which I might respond, "How can it not?"
When I look at a room, it's often the patterns and colors in a rug that sets the tone for the entire space. It can additionally inspire colors throughout a home.
Whenever I begin a project with new clients, I select a few textiles so that I can get feedback on the depth of color they want in their home. Some like a subtle natural look, while others love wild, vibrant colors that brighten a room.
Area rugs are often where I begin in interior design, as it's a great place to start imagining a home's possibilities. However you might go about selecting an area rug, let it be the first step in invigorating your home.
Contact us to learn more about the right rugs for your home!