Restoration Hardware Window Treatments vs. Custom Window Treatments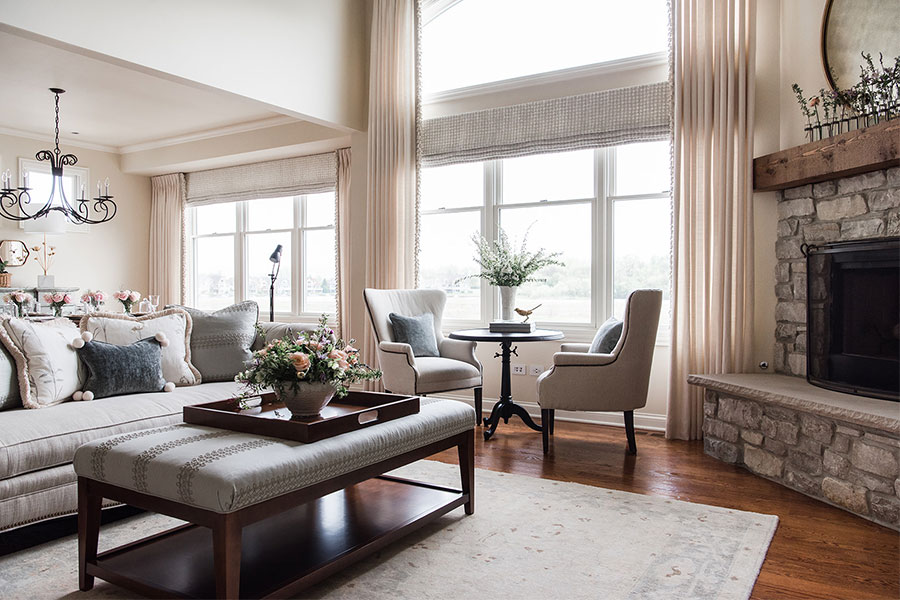 Recently a client of ours ordered draperies from an online retail store.
She selected what she wanted—silk with rod pocket panels, curtain rods, and clip rings. Simple enough. But when she went to install them, she found that the center bracket didn't fit properly so they were actually too short. Even worse, they had been folded multiple times to fit in the shipping box, leaving creases everywhere—and silk can't be steamed!
We had to start over completely with new draperies and curtain rods, which ended up costing her much more in the long run.
Big-box stores offer window treatments and promise an easy process. Just select a fabric, put in your measurements, click add to cart, done!
But there are pros and cons to ordering a pre-made product online.
Here are a few considerations as you decide between ordering from a chain retail store and going custom:
Limited Fabric Options vs. Unlimited Fabric Options
With custom window treatments, we source fabrics in any number of types and colors. When you order from a store like Restoration Hardware, the options are more limited to their offerings.
You'll also find that some home decor stores sell window treatments that match their own brand identity. This can be a good thing if you want a room that 100% falls within that RH look. Or it may not allow for the variety and personalization that you're going for in your home.
Simplified Options vs. Endless Options for Styling Details
Often, retail stores don't often offer extra details like trims and tapes. Instead, you end up with a window treatment that has a more plain, streamlined aesthetic.
When you go custom, you have the opportunity to pick up more style and color in the details, adding texture and potentially elevating the look.
In addition, most retail stores only offer one standard size heading. This may be fine for 8' ceilings but anything taller and the heading size ought to be lengthened so it's proportional to the space.
Guidance on Lining Selection
Certain fabric types require certain linings. Natural fibers like linen and silk break down easily and are more delicate in nature. If the wrong lining is selected, the lifespan of the window treatment is drastically shortened.
For example, if you choose an inside mount roman shade for a south or west facing window, it needs to be lined with a blackout lining, interlined, or both. (Yes, I know that's a lot of detail and window treatment jargon. But maybe that's the point!) An unlined silk shade will have a noticeable color change within months, breaking down from heat and UV rays. Over time, it will actually fall apart.
Ordering online will typically mean that you don't have a professional to guide you in these all-important decisions. If you go this route, we would advise doing a good amount of research before making your selection.
When working on a custom treatment, we will help you select the linings that will match both the fabric and its position in your home.
Self-Measuring vs Professional Measuring
Even if you do everything right, the treatments you order from a retail store may not arrive as you expected. With so many people involved in the fabrication process, mistakes are always possible. Getting the correct measurements may also be more difficult than it appears.
One of the benefits of custom window treatments is that fewer people are involved, resulting in fewer opportunities for errors or miscommunications. You'll also have access to professional measuring services and a designer on your side who knows how to communicate with the fabricators and installers.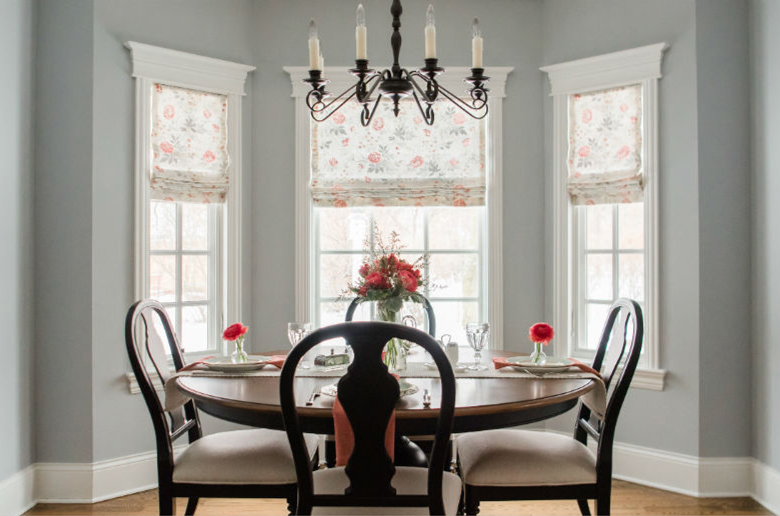 Considerations Around Installation
Many of these stores offer installation services, but you are getting whichever installer they send without the opportunity to vet them separately.
We've noticed this: Some of the best installers in the business prefer not to work with online companies because they've found that when they arrive to do the job, mistakes made in the ordering process make the installation difficult or uneven, which reflects badly on their work through no fault of their own.
A lot of thought and a great many decisions are involved in choosing the correct window treatments.
There is an art to selecting fabric for the specific window design, exposure, and purpose. It takes experience to plan and determine the appropriate hardware that will fit in your space, hold the weight of the treatment, and function properly in your home.
Having run an in-house workroom for 13 years, we've been hands-on in the fabrication process and understand how window treatments are actually made. This gives us the inside knowledge and expertise to make the right decisions for your project.
If you're looking for unique window treatments that look great and last, give us a call.
Let's start planning your custom look today!