A Guide to Window Drapery Length and Width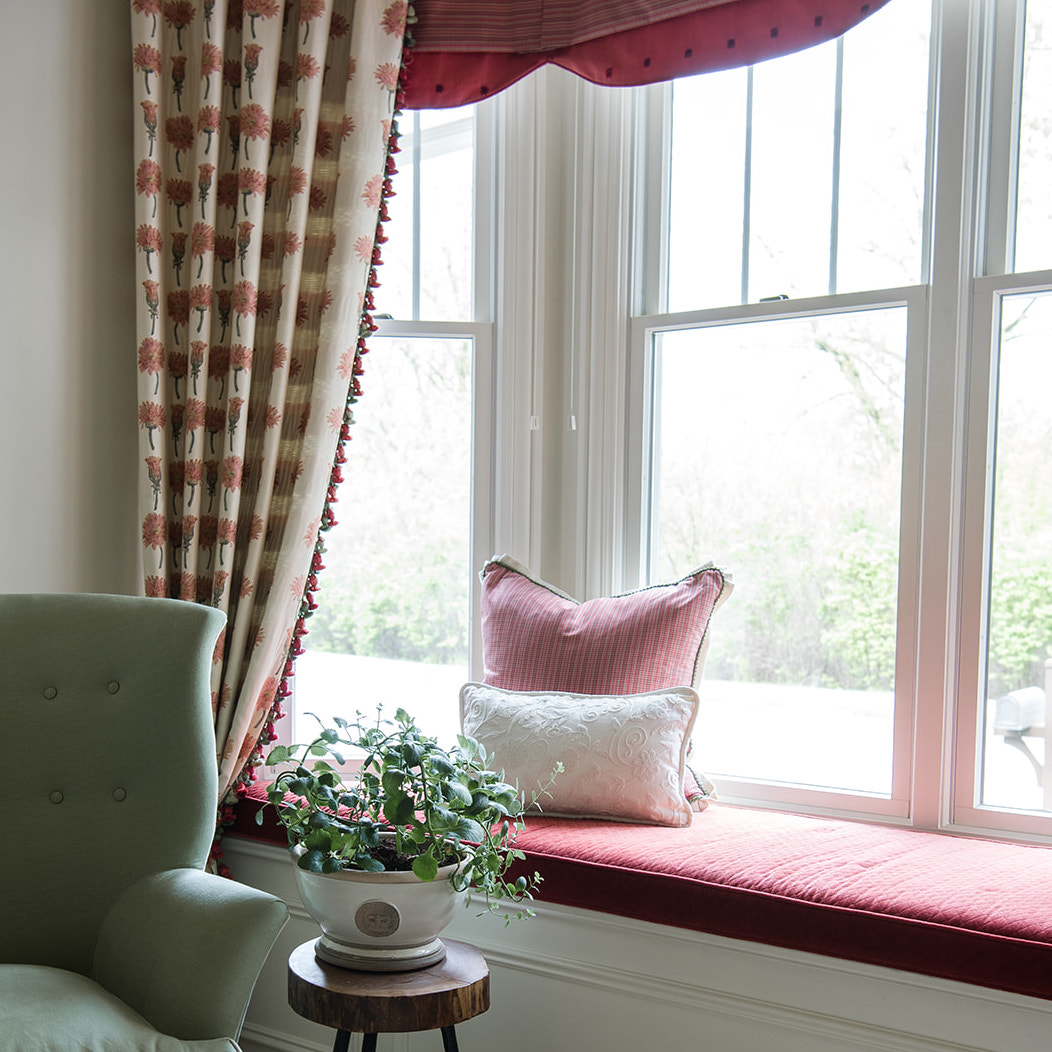 So you're standing in front of your window, measuring tape in hand—now what?
If you're like many people who reach out to us, you've already realized that selecting the right drapery length for your home is not as simple as just measuring the window.
After all, how do you decide where to start and end the treatment? And is there any additional length or width required that you should account for?
As it turns out, there are a lot of considerations—the height of your window, the level of foot traffic, and even the weather! Here are some helpful hints to help you select the drapery size that will function beautifully in your space.
Selecting a Width
When choosing a drapery width, one thing to keep in mind is the amount of space taken up by the treatments when they're in their fully open position. This is referred to as the "stack" or "stack back." The heaviness of your drapery material and the lining you choose will affect the size of the stack.
If you're covering a wide window, that will also generate more stack as there's more fabric in play.
You'll need to take the stack into account when selecting the overall width of the treatment. For instance, if you have a room with a beautiful view, you'll want to leave as much of the window uncovered as possible.
In that case, you have to account for the stack to ensure that when your treatment is fully opened, it only overlaps your window the minimal amount, or about 4-6 inches. This means you'll have to go wider on the overall treatment and you'll also need to consider how the added width affects your curtain rod or other hanging hardware.
One more consideration—for windows near a corner, be careful not to choose a drapery that ends right before the corner, leaving only a thin slice of wall exposed.
Instead, go ahead and select a wider width on the drapery so you can run it right into the corner. This creates a more flowing wall-to-wall design.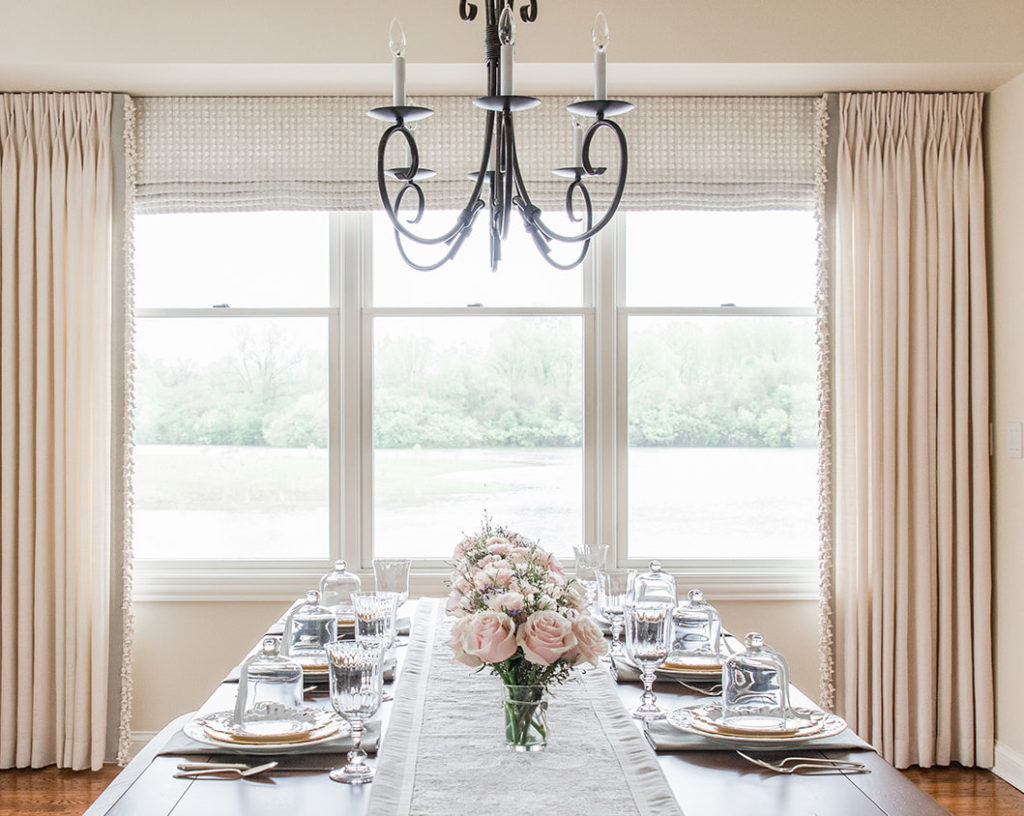 Selecting a Length
The drapery length you choose creates its own unique look with inherent pros and cons. Let's go over the two most popular lengths to start with, floor length and sill length, and their most common usages.
Floor Length
Floor length is a popular option in living rooms and dining rooms. Typically, this style fits best with the room's architecture and the look of the furnishings in those rooms.
A floor length treatment is great for adding drama and height to a space. As far as the length is concerned, you'll want to make sure the drapery at least skims the top of the floor, as ending just before the floor tends to look accidental or choppy.
You can also opt to have the treatments "puddle," which is what we call it when they extend longer than floor-length and pool up on the floor, adding a touch of romantic grandeur.
Sill Length
This length is popular in bathrooms and sometimes bedrooms. Bathrooms tend to be tighter quarters with smaller scale windows so a full-length drapery just doesn't quite fit.
Bedrooms are a toss up between floor length and sill length and ultimately the choice will depend on the size of the window. For instance, a wide window that's only four feet high might look awkward or overwhelmed by a full length drapery, in which case sill length is more appropriate.
So How Do I Choose?
Consider the room itself. What length matches up best with the room's proportions and sight lines? For example, if the room has lower ceilings, running drapery floor to ceiling will help create longer lines and give the illusion of height.
Consider the room's usage. For a high traffic space, sill-length treatments may constantly be getting blown out of place as people rush through. It may benefit you to select floor-length treatments in these spaces to help hold them in place.
However, you do not want to puddle your floor-length treatments in high traffic areas as they could be a trip hazard. You'll also want to avoid the puddled look if you have children or pets, as that treatment length is more prone to collecting dust and dirt.
Consider the placement of airducts or HVACs. A blast of air can easily blow a drapery out of position or separate a drapery from its lining. In those cases, we recommend adding a memory stitch at the hem to tack the drapery and lining together.
Tips for Measuring Length
Add a minimum 4" to the overall length. This ensures that your drapery will fully clear the top of the window and prevents the back side of the drapery heading from peaking into the window.
Consider the fabric. Believe it or not, silk and linen adjust with the seasons—they'll be longer in the summer due to higher humidity levels and shorter in the winter due to the dry air.
You'll want to choose a length that will work well under all weather conditions.
As you can see, there's a lot to keep in mind!
To demonstrate a designer's thought process in action, let me walk you through one challenge I'm currently working on:
I'm currently designing a bedroom for a client whose lovely historic home was built in the early 1900s. As is typical for that period, the room is smaller and with lower ceilings as compared to today's standards.
My first thought was to run the drapery floor to ceiling to help make the room feel taller. However, the placement of the furniture makes floor-length drapery a bit awkward.
Ultimately, we decided to go ahead with installing the window treatment at the ceiling, adding height to the room, but running it down to just a few inches below the window.
That way, we avoid the issue with the furniture but still add visual length. This also eliminated light gaps at the bottom of the treatment, which is particularly important in a room where people will be sleeping!
If this helped but you still need some additional guidance, don't hesitate to give us a call! We look forward to assisting you in selecting just the right drapery length for your space.